PUBLIC WORKS
LANDFILL
BUILDING CONSTRUCTION
HYDRAULIC STRUCTURES
MINING ENGINEERING
PUBLIC WORKS NOTEX GX
NOTEX GX
- Reinforcement on compressible soil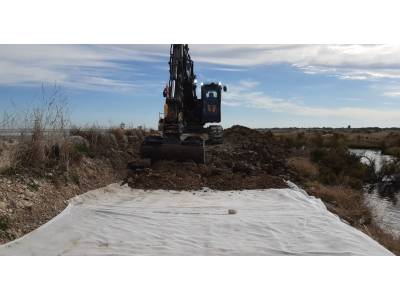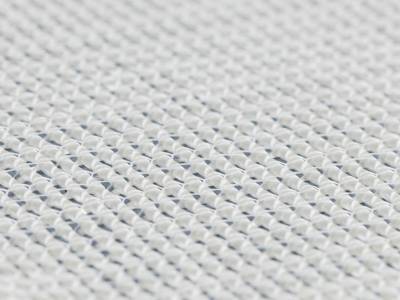 Use
Civil engineering structures built on soils with low bearing capacity, on clay soil with a high water content or organic soil can be exposed to compaction, due to the compressible nature of the subgrade, or when subjected to a load.
NOTEX® GX is a reinforcing geocomposite recommended for extreme applications such as the stabilisation of slopes and embankments on compressible soil, the reinforcement of platforms, road foundations and construction site roads. It helps reduce the effects of compaction.
Its perforated, fine mesh structure allows for very good soil friction and water flow. Its flexibility means it adapts well to the ground and, more importantly, is quick and easy to install.
NOTEX® GX is also suitable for the reinforcement of walls on reinforced soil, bridge abutments and bunds.
Benefits
Specific mesh aperture guaranteeing water flow and the interlocking of granular materials
High tenacity with elongation at break inferior to 11%
Immediate tensioning of the structure
Controlled punctures
Guaranteed sustainability
Features

Reinforcement
Characteristics
Reinforcing geosynthetic made of high-tenacity polyester by the combination of high-strength polymer cables
Roll width: 5.30 m (17.4')
Roll length: 100 m (328')
Tensile strength: up to 900 kN/m
FIND OUT MORE...
Projects completed with NOTEX GX
Drainage and reinforcement on soft soil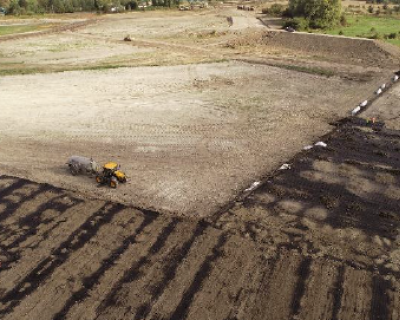 Condé-Pommeroel Canal - Belgium - 110 000 m2
The enhancement of the canal's performances implicated the construction of deposits for the storage of non-aggressive sediments. To make the soils suitable, the solution used was a combination of drainage (SOMTUBE® FTF) and reinforcement (NOTEX® GX).
Seawall construction and reinforcement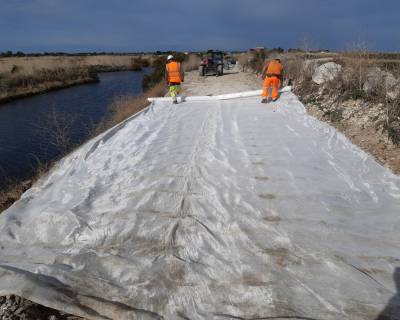 [Public works]
LA COUARDE SUR MER seawall - Ile de Ré (17)
1 500 m2
The construction of a protective seawall poses numerous internal stability issues. The NOTEX® GX solution helps address these issues by guaranteeing the stability of the seawall.