BUILDING CONSTRUCTION
LANDFILL
PUBLIC WORKS
HYDRAULIC STRUCTURES
MINING ENGINEERING
BUILDING CONSTRUCTION DRAINTUBE GAS
DRAINTUBE GAS
- Contaminated soil remediation and SSD system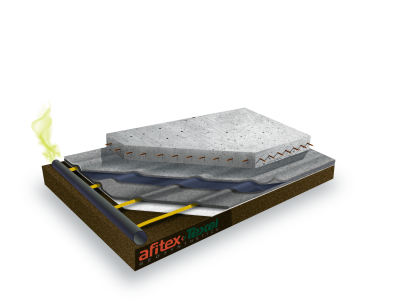 Use
Construction of new buildings on old industrial sites with polluted soil or on areas with the potential for elevated indoor radon levels, requires the installation of a sub-slab depressurization (SSD) system as a mitigation system.
Installed below the vapor barrier, the DRAINTUBE® GAS geocomposite is used as part of the SSD system, replacing the granular drainage layer and separation geotextile. It has a high and stable over time drainage capacity, even under heavy loads.
DRAINTUBE® GAS is mechanically connected to the exhaust pipes using the Quick Connect system. It reduces pressure losses and improves the overall SSD system performances. DRAINTUBE® GAS is compatible with active SSD.
Connection to the exhaust pipe using the Quick Connect system
The Quick Connect system connects the mini-pipes of the DRAINTUBE® GAS directly to the collector pipe. This ensures that the overall system is depressurized, and it reduces pressure losses.

Benefits
A proven solution as sub-slab depressurization system
Effective gas drainage (LFG, radon, etc.)
Compatible with passive and active depressurization systems
Reduction of the required excavation and disposal of polluted soils
Reduction of the social footprint (less truck traffic, less neighborhood disturbance)
Easy installation with a single product to unroll
Cost-effective and environmentally friendly solution as it replaces granular layers
Features
Drainage

Water barrier

Waterproofing
Characteristics
Multi-linear drainage geocomposite (ASTM D4439)
Perforated mini-pipes made of polypropylene
3 diameters of perforated mini-pipes: 16 mm, 20 mm and 25 mm
4 spacing options between the mini-pipes: 2 m, 1 m, 1/2 m and 1/4 m (80'', 40'', 20'', 10'')
Standard roll size: 3.98 m x 75 m (13.1' x 246')
Projects completed with DRAINTUBE GAS