PUBLIC WORKS
LANDFILL
BUILDING CONSTRUCTION
HYDRAULIC STRUCTURES
MINING ENGINEERING
PUBLIC WORKS DRAINTUBE FTF
DRAINTUBE FTF
- Draining mask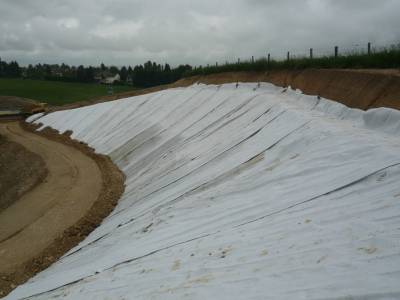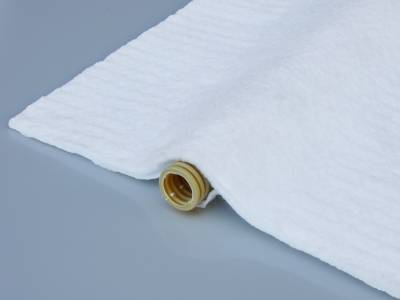 Use
Cut sections involve large and high slopes that need to be stable to avoid landslides. In case of groundwater, drainage masks construction using granular material, implies to carry and install a large amount of materials.
The use of the DRAINTUBE® FTF drainage geocomposite for subsurface drainage helps to drawdown the water table and prevents water inflow on the slopes. It has a high and stable over time drainage capacity, even under heavy loads.
DRAINTUBE® FTF replaces the granular drainage layer and the filtration geotextiles with a single product easy to install.
Benefits
Enhance soil drainage performance
Increase in slope stability
Reduction of the construction time
Easy installation with a single product to unroll
Cost-effective and environmentally friendly solution as it replaces granular layers
Features
Drainage

Filtration

Mechanical protection
Characteristics
Multi-linear drainage geocomposite (ASTM D4439)
Perforated mini-pipes made of polypropylene
3 diameters of perforated mini-pipes: 16 mm, 20 mm and 25 mm
4 spacing options between the mini-pipes: 2 m, 1 m, 1/2 m and 1/4 m (80'', 40'', 20'', 10'')
Standard roll size: 3.98 m x 75 m (13.1' x 246')
Projects completed with DRAINTUBE FTF
Stabilisation and drainage of eroded slopes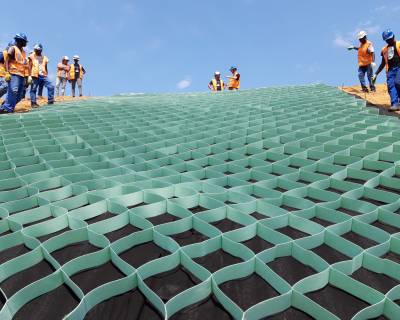 [Public works]
Mombasa airport - Kenya
1000 m2
To stabilise slopes and drain water in a context of torrential rain, the solution implemented was a combination of the DRAINTUBE® FTF geocomposite with an earth retention system, ALVEOTER®.

Drainage behind Mechanically Stabilized Earth (MSE) wall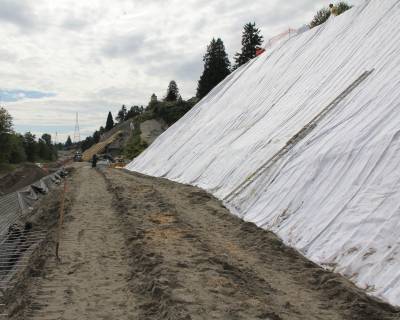 [Public works]
South Frazer Perimeter Road, British-Columbia
25 000 m2 (250 000 sq ft)
DRAINTUBE® FTF drainage geocomposite is used for the drainage behind MSE wall in replacement of the washed clean stone layer and the two filtration geotextilesle. The geocomposite offers a stable long-term drainage capacity even under high loads.  The ease of installation of DRAINTUBE® optimizes construction time and increases safety on site.