BUILDING CONSTRUCTION
LANDFILL
PUBLIC WORKS
HYDRAULIC STRUCTURES
MINING ENGINEERING
BUILDING CONSTRUCTION DRAINTUBE FTB
DRAINTUBE FTB
- Sub-slab drainage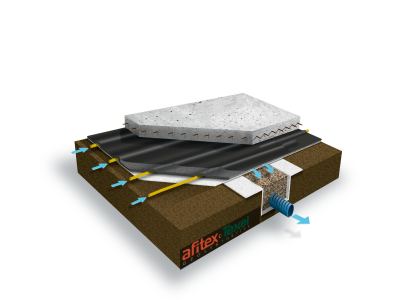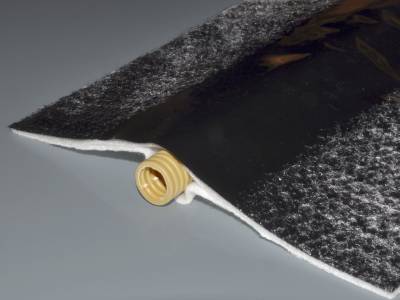 Use
Elevated or perched groundwater conditions can create significant disruption and structural damage, such as slab heave due to the build-up of hydrostatic uplift pressures below the slab. A passive (gravity) or active (pumping) sub-slab drainage system must therefore be considered to drain the groundwater.
DRAINTUBE® FTB geocomposite is designed to drain water from the subgrade, under the concrete slab, replacing the drainage layer traditionally made of granular material + collector drains. It has a high and stable drainage capacity over time, even under heavy loads.
DRAINTUBE® FTB sub-slab drainage system can operate under a permanent water head, i.e. constantly in the water table. The geocomposite is connected to one or more drainage trenches and to a main drain (gravity or sump).
The polyethylene geofilm needle-punched to the DRAINTUBE® FTB allows the concrete slab to be poured directly on the geocomposite, without the risk of clogging by fresh concrete.
Benefits
Efficient Drainage and Filtration even under high loads
Proven efficiency, even constantly in the water table
Reduction of the required excavation
Reduction of the social footprint (less truck traffic, less neighborhood disturbance)
Reduction of the construction time
Easy installation with a single product to unroll
Cost-effective and environmentally friendly solution as it replaces granular layers
Features
Drainage

Filtration
Characteristics
Multi-linear drainage geocomposite (ASTM D4439)
Needle-punched polyethylene geofilm
Perforated mini-pipes made of polypropylene
3 diameters of perforated mini-pipes: 16 mm, 20 mm and 25 mm
4 spacing options between the mini-pipes: 2 m, 1 m, 1/2 m and 1/4 m (80'', 40'', 20'', 10'')
Standard roll size: 3.98 m x 75 m (13.1' x 246')
FIND OUT MORE...
Projects completed with DRAINTUBE FTB
Drainage under waterproofing layer and esplanade concrete slab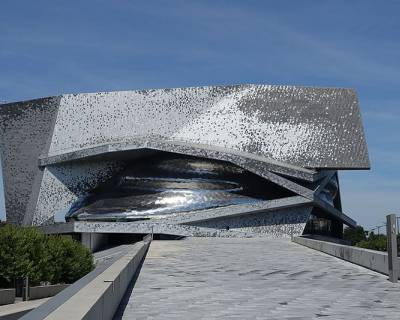 [Building]
Philharmonie de Paris (75)
22 000 m2
Philharmonie de Paris involves many outdoor circulation areas. SOMTUBE® FTB was installed in these areas to drain stormwater run-off with a view to limiting contact with the slab waterproofing layer and preventing any risk of ground cracking.