PUBLIC WORKS
LANDFILL
BUILDING CONSTRUCTION
HYDRAULIC STRUCTURES
MINING ENGINEERING
PUBLIC WORKS ALVEODRAIN EV
ALVEODRAIN EV
- Tunnel wall drainage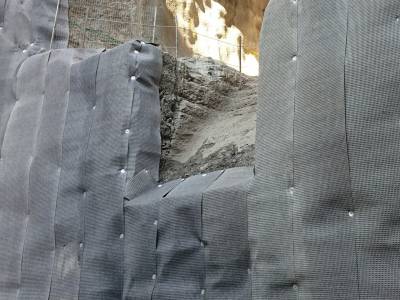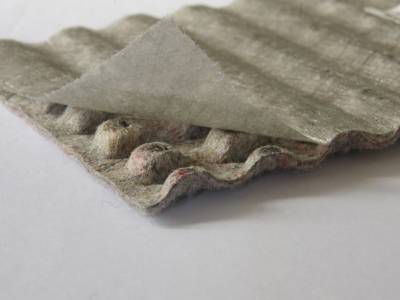 Use
To dissipate hydrostatic pressures behind the concrete walls of underground structures (tunnels, covered trenches), a drainage and filtration system must be implemented between the rock or shotcrete wall and the cast-in-place concrete cover.
Installed in strips or over the entire surface, ALVEODRAIN® EV quickly drains infiltrated water. Its integrated filter geotextile prevents the migration of particles into the product. The drainage core of ALVEODRAIN® EV, composed of a dimpled polypropylene geotextile, increases contact between the shotcrete and the product. The structure of the geocomposite also allows it to adapt to irregular surfaces while keeping a high resistance to compression.
In addition to drainage, ALVEODRAIN® EV offers mechanical protection of the wall and avoid any damage when backfilling. It combines the three functions: filtration, drainage and mechanical protection in a single product and a single installation.
Benefits
Effective drainage of infiltrated water
Filtration geotextile that prevents the migration of fines into the product
Soft, flexible, very robust material, adapting to irregular surfaces
Resistance to high loads
Easy to install, does not require specialized equipment or labor
Cost-effective and environmentally friendly solution as it replaces granular layers
Features
Drainage

Filtration

Mechanical protection
Characteristics
Polypropylene geocomposite
Roll width : 1.10 m
Roll length : 50 m
Roll weight : 34 kg
FIND OUT MORE...
Projects completed with ALVEODRAIN EV
Tunnel wall drainage
[Public works]
Côte-Vertu garage - Montreal
20 000 m2
As part of the construction of an underground maintenance garage as well as an access tunnel, ALVEODRAIN EV geocomposite was used to allow the drainage of infiltrated water from the vertical walls.